Architecture tours Berlin:

The Hansa Quarter
"The City of Tomorrow" – West Berlin's building exhibition of 1957 as a post-war modernism lab.
Architecture tours Berlin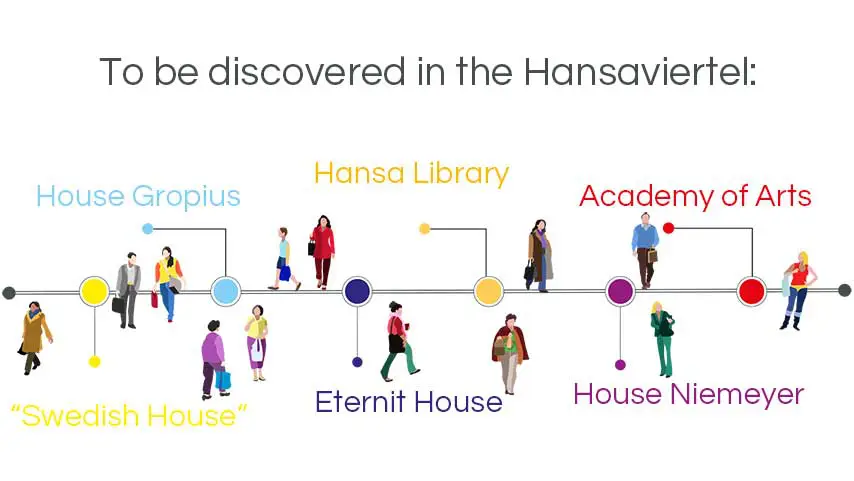 More than half a century after the INTERBAU building exhibition of 1957, we will visit the Hansa Quarter – the most prestigious 1950ies housing estate of West Berlin. Inspired by an optimistic belief in progress, new ideas of high quality living in a metropolis were meant to be shown here. Following the modernist planning guideline of a "loosely arranged, green urban landscape", renowned architects, such as Walter Gropius, Alvar Aalto, Oscar Niemeyer, Arne Jacobsen and many others, designed more than 30 buildings. Every structure is a unique showpiece. Thus the Hansa Quarter became an important example of the post-war International Style. Besides the need to build apartments in war-ravaged Berlin this project, supported by West Germany's government, was also a political statement in the Cold War era. Whilst East Berlins "Stalin Avenue" campaigned for socialism, the Hansa quarter was meant to promote the social market economy and the policy of Western integration. Today it shows the pros and cons of a now historic building ideology.
Architecture tour Berlin: 2 hours
The Horseshoe Estate
City dweller's paradise: Bruno Taut created one of Berlin's most beautiful 1920s housing estates.
Architecture tours Berlin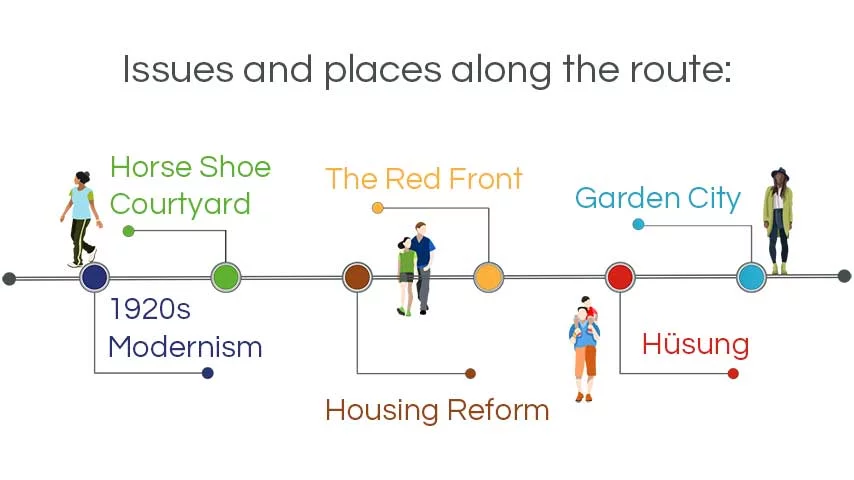 This architecture walking tour will take you through the World Heritage Site Hufeisensiedlung (Horse Shoe Estate), designed by the architects Martin Wagner and Bruno Taut. Created between 1925 to 1930, this modern style housing estate was built in response to Berlin's extreme housing shortage at the time; it combines various models and principles of the Lebensreform social movement with general housing reform. Besides terrace houses with gardens, set along beautifully laid out streets, large blocks of flats can be found as well – all this is united in the quest for affordable housing offering the highest possible quality of life. Another specific feature of the estate is Taut's aesthetical colour concept which is particularly pleasing.
Architecture tours Berlin: 2 hours
The Stalin Avenue
National Tradition versus International Style – Developing a showcase boulevard for socialism.
Architecture tours Berlin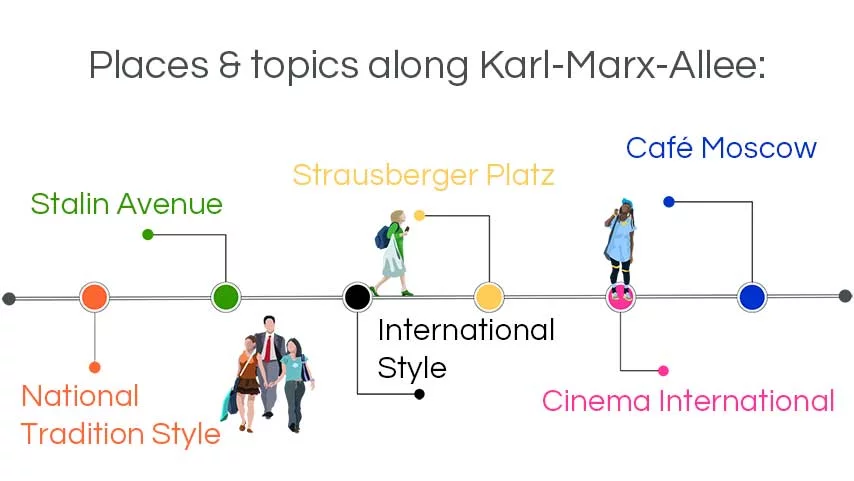 No "American egg boxes", no "Hitleresque barrack-style" was the order of the political leaders in the planning of East Berlin's Stalin Avenue. The first major housing project of the East German state was meant to campaign for socialism and inspired by aesthetical guidelines of the Soviet Union. Starting in 1952, impressive buildings were lined up at a 2.3 kilometres long boulevard, offering 5,000 comfortable apartments for workers behind opulent Neo-classicist facades. Whilst the architects such as Hermann Henselmann and Richard Paulick had focussed on creating a home-grown "National Tradition style", critics in the West mockingly called it Stalinist gingerbread style. Later the avenue was renamed Karl-Marx-Allee, and until 1965 it was extended following a new doctrine. The 750-metre long new section was erected as East Germany's first housing estate built entirely of prefabricated concrete slabs. It demonstrated not only the consequences of an industrialised construction process but also that the rulers had given up demonising the International Style and now wanted to catch up with post-war modernism.
Architecture tour Berlin: 2 hours
Remodelling the waterfront
Metamorphoses – how party and subculture playgrounds became an eldorado to property speculators.
Architecture tours Berlin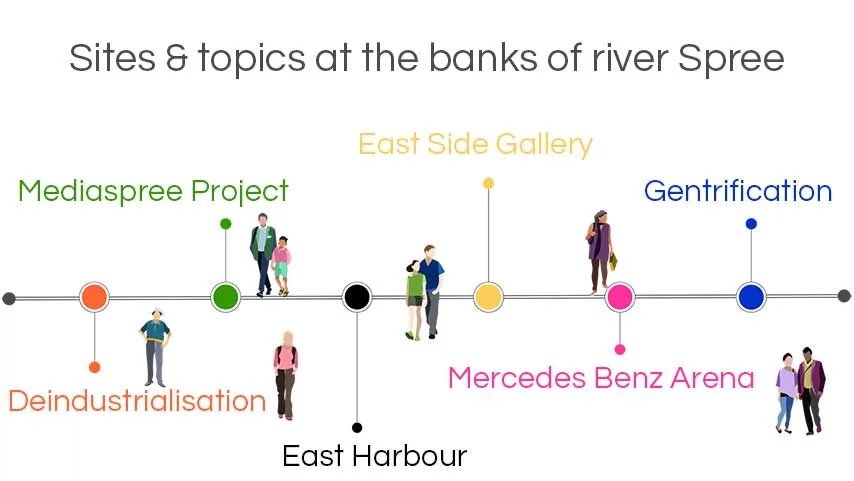 This tour introduces you to one of Berlin's most interesting areas for urban development. In the districts Friedrichshain and Kreuzberg, industry once ruled the banks of the river Spree. Together with a gigantic freight area, the East Harbour was one of the major trans-shipment centres of the city. The collapse of the GDR, followed by the drastic deindustrialisation of Berlin, left behind a massive industrial waste land. Beach bars, techno temples and a thriving art scene sprang from its fallow ground; its ramshackle ambience became the playground of Berlin's subculture and party scene, reinforcing Berlin's reputation as a trendy, exciting metropolis. However, several years ago real estate investors landed on the scene and started taking over – a new era has begun …
Architecture tour Berlin: 2 hours
Germania
An example of Hitler's delusions of grandeur was his aim to redevelop Berlin as "World Capital".
Architecture tours Berlin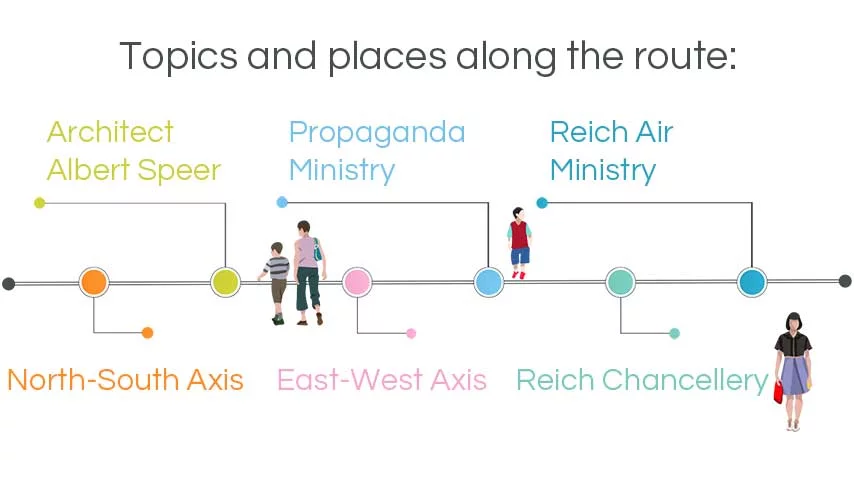 Hitler's favorite architect Albert Speer worked out plans for a new urban layout without regard for negative social and economic impacts caused by the destruction of historic city quarters. The central part of the redevelopment project, summarized under the term "Germania", was a new North-South Axis. It was meant to be lined with giant representative buildings such as the "Great Hall" – an assembly building for up to 180,000 people. But the city walk is not only dealing with the traces of this failed project. It also leads to still existing Nazi-era buildings that were erected independently from the above mentioned plans.
Architecture tour Berlin: 2 hours
Special recommendation: the Mythos Germania exhibition of the Berlin Underworlds Association >>>
The Potsdamer Platz
The renaissance of a legendary quarter – A contemporary showcase project for a reunified Berlin.
Architecture tours Berlin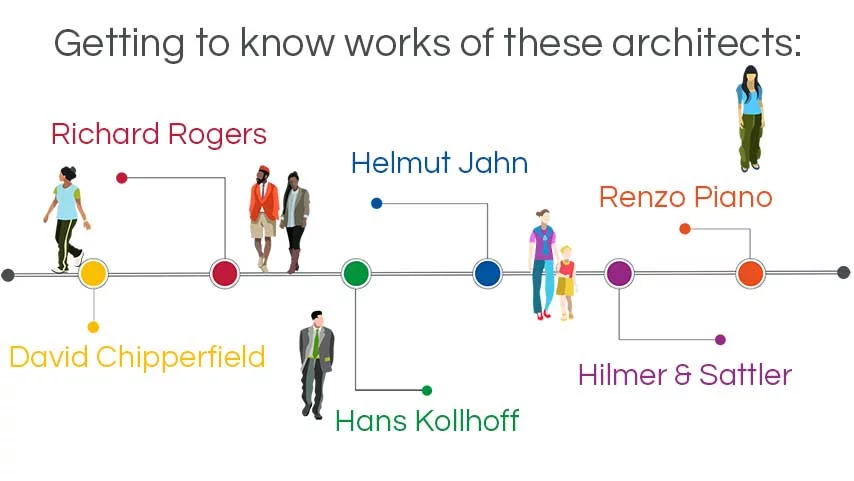 By the early 20th century, Potsdamer Platz had become the busiest traffic hub in Berlin. With its vibrating liveliness it contributed much to Berlin's reputation as a "world metropolis". But not much more than a myth of this place was left over after World War II. With the construction of the Berlin Wall it was finally torn apart and became an area of wasteland. After the fall of the Berlin Wall, the square regained its former central position. Between 1994 and 2004, several investors, such as Daimler and Sony, realized large-scale projects on what was then called "Europe's biggest construction site". Many renowned architects, for example Renzo Piano, Richard Rogers, David Chipperfield and Hans Kollhoff, created a broad spectrum of contemporary architecture here. Nowadays' Potsdamer Platz offers a mixture of living quarters, shops, restaurants and places of entertainment.
Architecture tours Berlin: 2 hours
Museum Island
From the Old Museum to James Simon Gallery – A great ensemble of buildings and their architects.
Architecture tours Berlin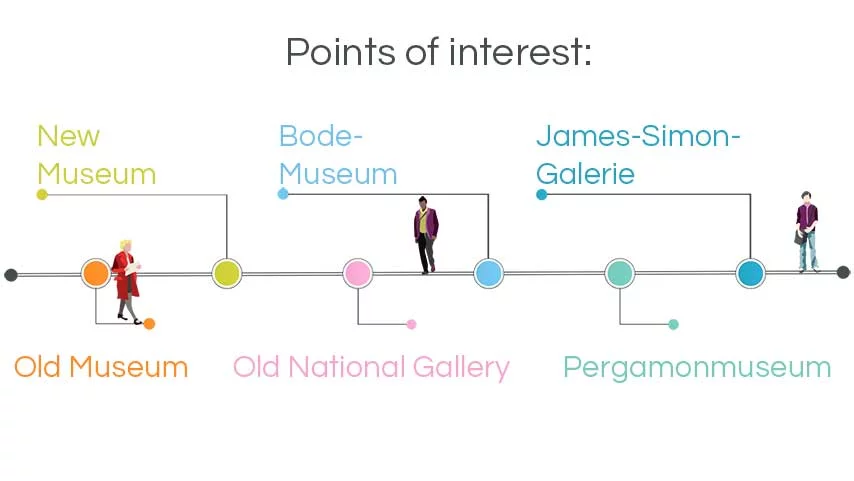 Listed among the UNESCO World Heritage Sites, Berlin's Museum Island is one of the most famous museum ensembles in the world. This architecture walking tour focusses on its splendid buildings from the outside. Starting in 1824, renowned architects such as Karl Friedrich Schinkel, Friedrich August Stüler, Ernst von Ihne and Ludwig Hoffman created a unique synthesis of architecture, urban planning and art collections over the course of a century. A new chapter began after the German reunification, when a master plan for Museum Island's refurbishment was created. David Chipperfield sets the strongest contemporary accent with the James Simon Gallery, a new main entrance hall named after a major donor.
Architecture tour Berlin: 2 hours
The Siemensstadt Estate
Gropius, Scharoun, Häring & Co. – visions of a group of modernists for better housing in the 1920s.
Architecture tours Berlin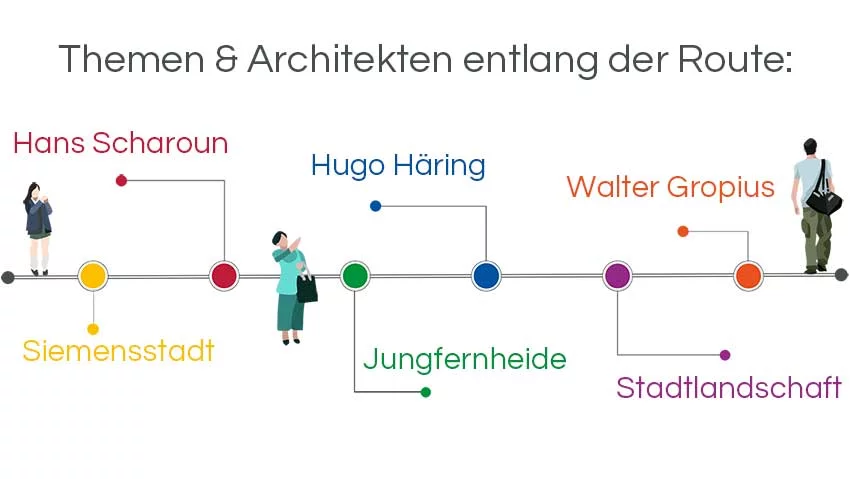 Between the once huge industrial complex of Siemens and the Jungfernheide public park lies the Siemensstadt estate, built in 1929-31. It embodies the social commitment of Berlin's urban development councillor Martin Wagner. Together with the architects Hans Scharoun, Walter Gropius and other representatives of the New Objectivity and functionalist design, he aimed at creating affordable and healthy housing for low-income earners. The project is one of Berlin's six World Heritage Housing Estates of the 1920s and follows new urban planning guidelines such as the idea of a "loosened and green city landscape".
Architecture tour Berlin: 2 hours
Schinkel in Berlin
Royal starchitect, painter and stage designer – Getting to know the Prussian universal genius.
Architecture tours Berlin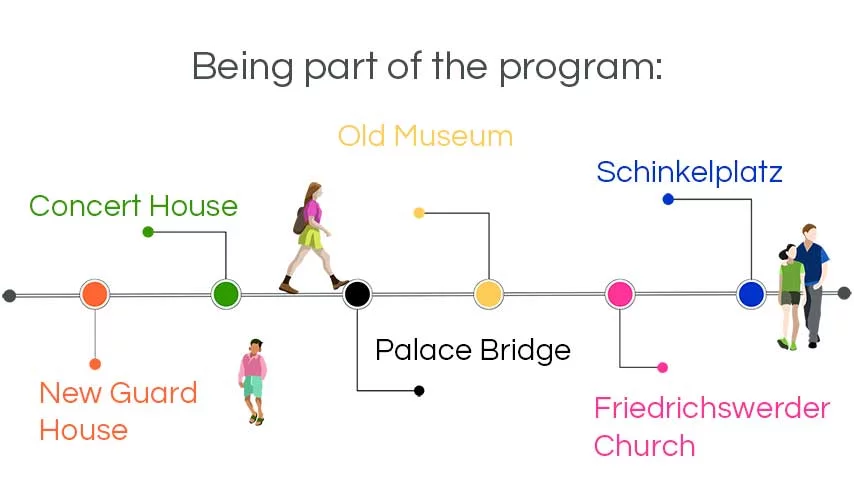 In the first half of the 19th century, no other architect shaped Berlin's historic centre around the City Palace in such a major way as Karl Friedrich Schinkel. Whether you would like to take a closer look at the New Guard House, the former Royal Theatre on Gendarmenmarkt, the Old Museum or Friedrichswerder Church – it's luckily only a quick jaunt from one masterpiece to another. This architecture walking tour presents Schinkel's fascinating stylistic variety inspired by his passion for Ancient Greek monuments and the Gothic revival mixed together with innovative ideas.
Architecture tour Berlin: 2 hours
Federal Capital Berlin
A new era began with the German parliament's decision to move the capital from Bonn to Berlin.
Architecture tours Berlin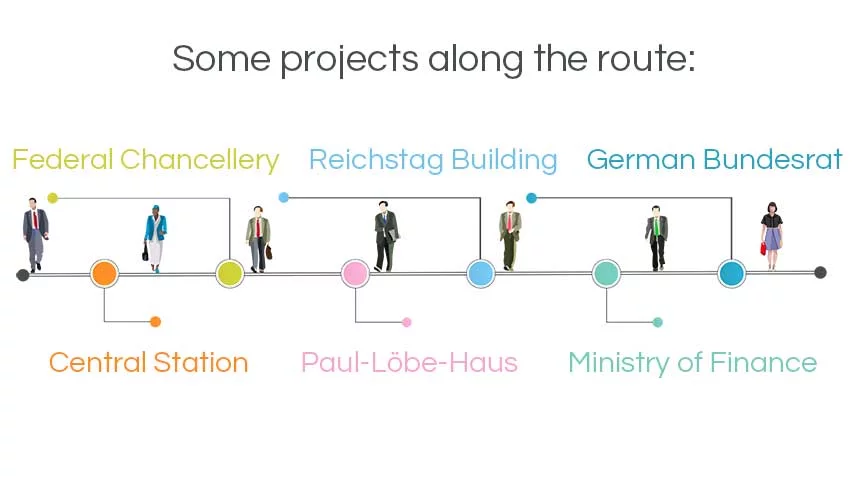 After many heated debates, Berlin was finally chosen to be the capital of a reunified Germany. In the years following this decision, many large-scale construction projects were undertaken. This architecture walking tour presents several hand-picked projects, such as Berlin's massive Central Station, the city's most costly railway station, as well as the new government quarter – dubbed the "Ribbon of the Federation". The latter is a representative ensemble made up not only of the Federal Chancellery, but also huge structures which cross over the Spree river; these buildings house the parliament's committees, archives and research services. The tour will also take you past the restored Reichstag building and several ministries, finally concluding at the Bundesrat, Germany's Federal Council.
Architecture tours Berlin: 2 hours